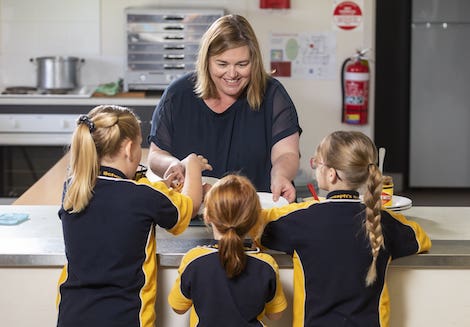 Breakfast Club runs 5 mornings a week out of the school canteen in the Hall. Staff volunteer their time to run breakfast club and senior students offer their assistance as well which is a wonderful component of community service.
All children are welcome to come to breakfast club, even if they have already had a breakfast at home that morning!
Children sit at the tables and enjoy a meal together and a chat before beginning their day. It is a wonderful way to transition from home to school and staff have noticed a more calming approach to the day for many students that participate.
Our P&F fundraising from the school canteen assists us to fund this program and ensures its sustainability. We also receive deliveries from Kickstart for Kids and appreciate their support.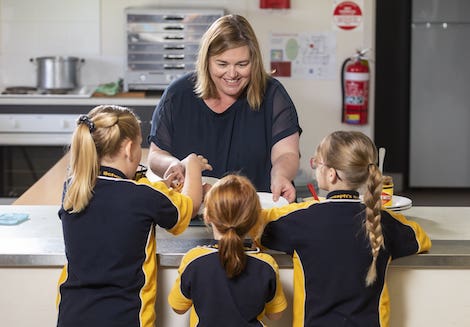 At St Joseph's School, we are committed to the wellbeing of each individual. Part of our wellbeing approach is the importance of mindfulness. Mindfulness is a targeted approach to learning how our brain responds to and deals with feelings, anxieties, worries and trauma. Students learn how to control different emotions through breathing and other calming techniques.
Every class practices mindfulness at transition times throughout the day. Teachers also use the Mind Up Curriculum to educate students about the brain and controlling our responses to various situations.
Peaceful Kids is a program run by our School Chaplain, Mrs Kylie Wells. This program is in addition to classroom mindfulness and wellbeing and is run with small groups outside of the classroom. Kylie is trained in delivering this program. Children involved learn further skills and strategies to assist with breathing and calming the body and the brain when faced with various situations that can cause a flight, fight or freeze response.
We engage a counsellor from Centacare Catholic, Caroll Wang, who provides a service at our school every Friday. This service is for students and families to assist with their mental health, wellbeing and any other general concerns, worries, feelings that they may have.
We value Caroll's presence and the wonderful work that she does to support student wellbeing and she is very eager to engage with parents and families as she supports their child.
For any inquiries please contact the front office or you can email Caroll directly: cwang@stjopet.catholic.edu.au